Welcome to the cutting-edge world of vaping technology! Prepare to be blown away as we unveil the game-changing Pax 3 App exclusively tailored for iPhone users. Brace yourself for a revolutionary experience like no other, where Pax Labs has redefined the boundaries of control and functionality. Get ready to immerse yourself in a journey that puts the power in your hands, as we explore the extraordinary features and benefits that make the Pax 3 App the ultimate solution for iPhone users. Hold on tight as we dive into the future of vaping!
Enhanced Control and Customization: The Pax 3 App empowers iPhone users with unparalleled control over their vaping sessions. Through a seamless Bluetooth connection, you can effortlessly pair your Pax 3 vaporizer with your iPhone, opening up a world of possibilities. Once connected, the app provides a user-friendly interface, allowing you to explore a range of customizable settings.
Temperature Precision: Achieving the perfect temperature for your vaping needs has never been easier. The Pax 3 App offers precise temperature control, giving you the ability to adjust the heat to the exact degree. Whether you prefer a smooth and flavorful session or denser vapor clouds, you can tailor the temperature to suit your personal preferences, ensuring a truly personalized vaping experience.
Dynamic Modes: The Pax 3 App introduces dynamic modes that take your vaping experience to the next level. Choose from various preset modes such as Boost, Efficiency, Stealth, and Flavor. Each mode is designed to optimize your sessions based on specific objectives, whether it's maximizing vapor production, conserving your material, or enjoying discreet sessions. With the Pax 3 App, you can effortlessly switch between modes and explore the diverse possibilities to find your perfect balance.
Session Insights and Personalization: Understanding your vaping habits is key to improving your overall experience. The Pax 3 App provides insightful session data, allowing you to track your usage patterns, session duration, and even the number of draws taken. This information empowers you to make informed decisions and adjust your vaping preferences accordingly. The app also offers a personalized approach, remembering your preferred settings and providing a seamless experience every time you vape.
Community and Firmware Updates: Connect with a thriving community of Pax users through the Pax 3 App. Share your experiences, tips, and tricks, and learn from fellow enthusiasts. Stay up-to-date with the latest firmware updates, ensuring that your Pax 3 vaporizer is always equipped with the latest features and improvements.
Conclusion: The Pax 3 App for iPhone is a game-changer in the vaping industry, offering iPhone users an unparalleled level of control and customization. With its user-friendly interface, precise temperature control, dynamic modes, and session insights, this app provides a truly personalized vaping experience. Embrace the future of vaping and unlock the full potential of your Pax 3 vaporizer with the Pax 3 App. Download it today and elevate your vaping journey to new heights.
Download App:
First, open up the App Store and download the Connect Browser app. You can also scan the QR code on the image below. Open it up and grant it access to Bluetooth.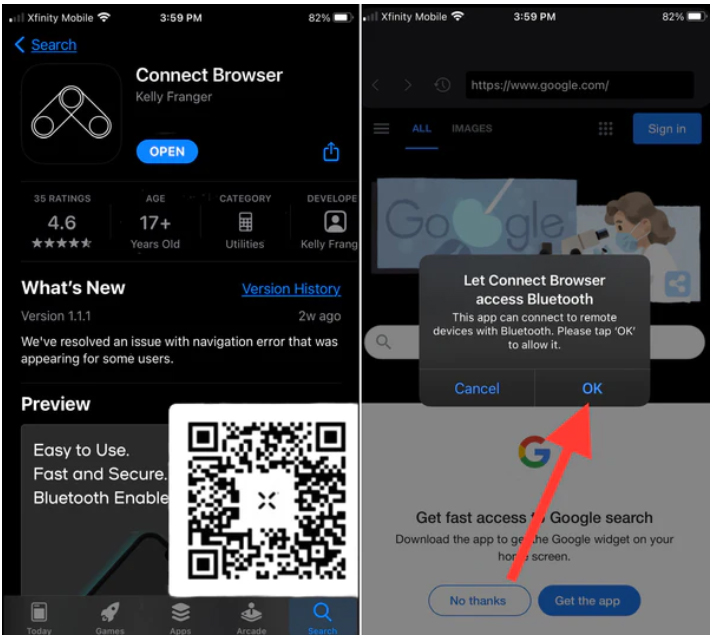 Download and install the "Connect Browser" app.
Pair your Pax 3
Click the url field and go to pax.com. Choose PAX 3 and then enter the unique serial number located on the back of genuine PAX product.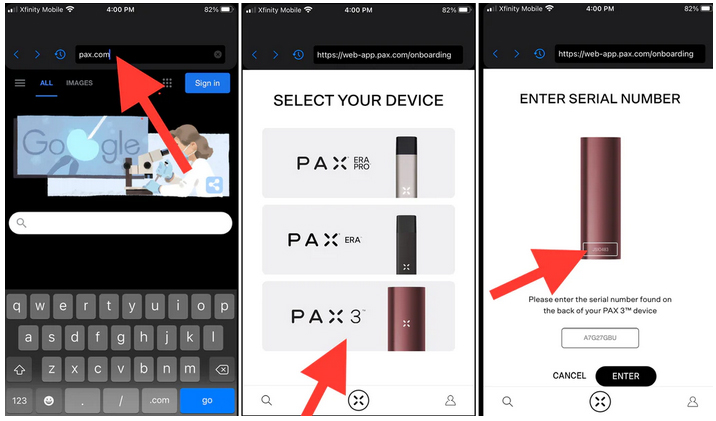 Enter the serial number to pair your PAX 3.
Turn your PAX 3 on and shake it until the petals turn blue. Then, with bluetooth enabled, press "Connect" on the app, choose your PAX, and you're good to go.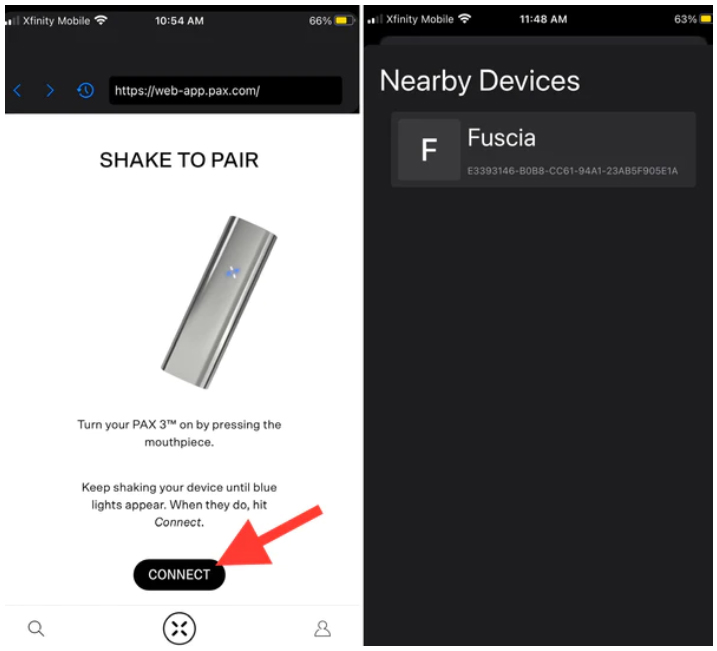 Shake your PAX 3 until it lights up blue, and press connect.

Your PAX 3 will heat up immediately, so if you're not ready for a session, press the lock button on the app to turn off the heater.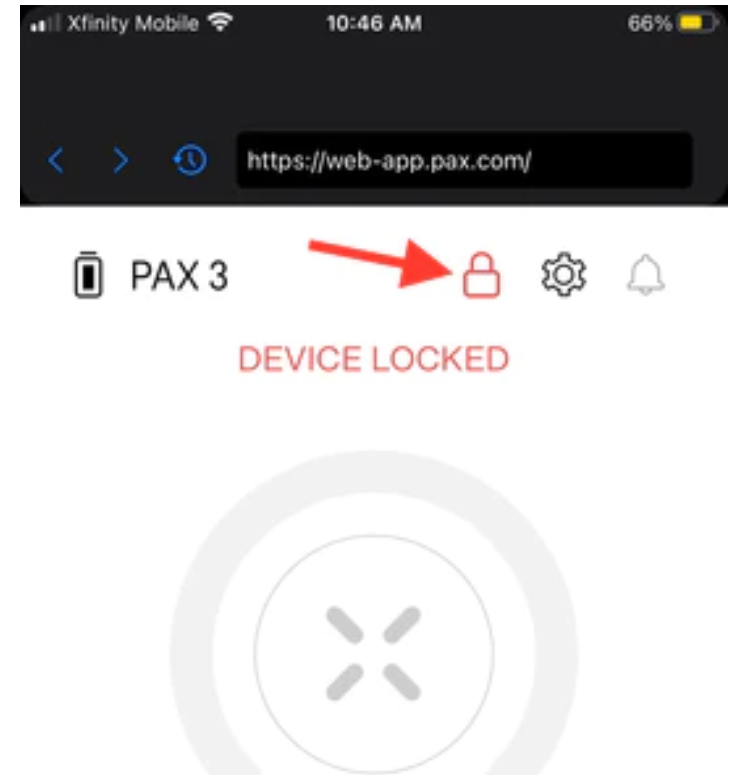 Press the lock icon to turn off the heater.

Set an exact temp or choose a heating profile
From the main screen, set your PAX 3 to whatever temperature you choose, down to the exact degree, or choose one of four heating profiles.
Standard - default setting. Temperature boosts when you draw, auto-cools when you don't.
Boost - aggressively limits auto cooling for longer, stronger sessions.
Efficiency - automatically increases the temp over the length of the session.
Stealth - stays at lower temps, with quicker cooling, so your exhales aren't as obvious.
Flavor - stays at low temps, but only heats up when you are drawing, for maximum flavor.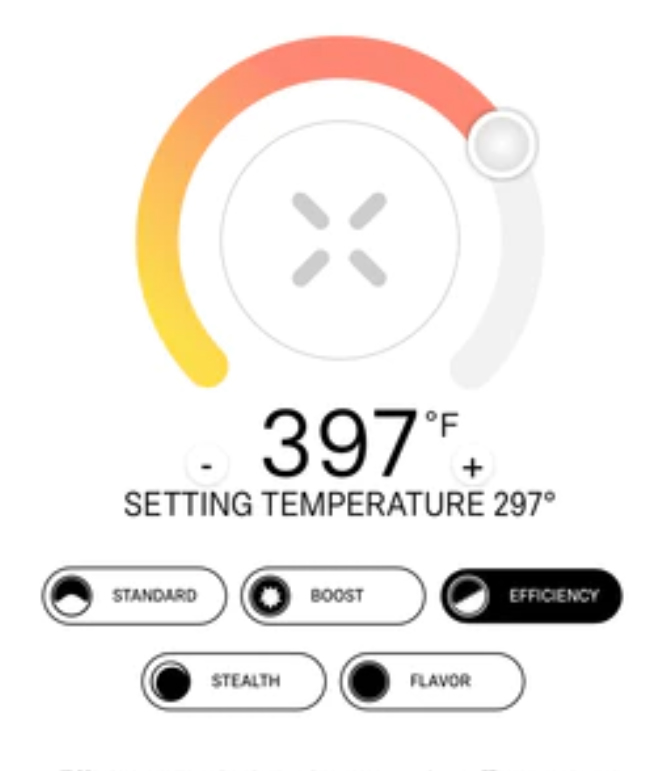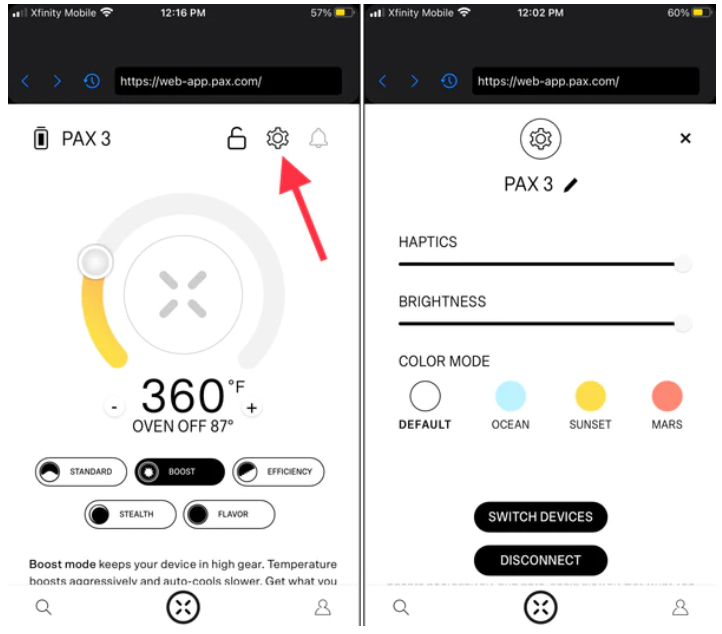 Press the gear icon to access haptic and light settings.
Conclusion
It's been well over two years since Apple removed all vaporizer apps from their App store, and for a while, PAX 3 users couldn't take advantage of what made the PAX 3 unique. This workaround finally gives us a reason to break it out again, with in-depth settings and heating profiles, and a reason to choose this PAX 3 over the the PAX 2.
Changing the temperature settings of your Pax 2
The Pax 2 has four temperature setting. To adjust the temperature you have to put your Pax into temperature mode.
To do this, when the Pax 2 in turn on, hold the power button until the LEDs turn yellow.
Now you can cycle through the four settings by pressing the power button once. Each LED corresponds to a temperature setting with 1 LED being the coolest temperature and 4 being the hottest.
To set your chosen temperature, hold the power button for an extended period again until the LEDs turn from yellow to purple or green.