Not sure which Vape is for you? We took some time out to look at three hot devices in the portable vaporiser world right now. Enjoy our Focus On 3: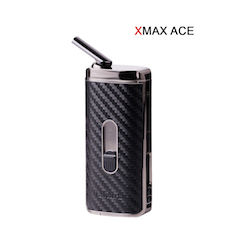 XMAX ACE
Recently released by the guys at XMAX, the Ace is a high quality, great value, mid range vape with a handy new feature, it has a sliding button which empties the chamber of used herb. Not too dissimilar to the Starry 3.0 in features and looks, the Ace comes in an attractive carbon black design with a sturdy metal frame to keep it safe from knocks.
The ceramic heating chamber excels giving you satisfying hits which is what we've come to expect from the guys at XVape. Packing features such as an OLED temperature display, a wide temperature range of between 100°C - 240°C, haptic feedback and the previously mentioned sliding empty feature, we're sure this vape will be a huge hit with our customers.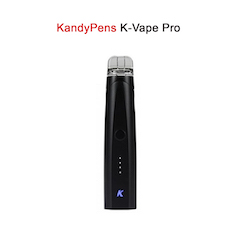 KandyPens K-Vape Pro
KandyPens are a brand we all trust. Anybody who vapes concentrates will no doubt know of their quality. So when a company who are primarily known for their concentrate vapes, decide to enter the dry herb vaping world with their latest entry, the KandyPens K-Vape Pro, our attention was grabbed.
So how does this dry herb vaporiser hold up? Well with a glass mouthpiece, conduction/convection heating, a good sized chamber and separated air path, the KandyPens have made not only a great dry herb pen, but one of the best in it's class for under £100. It's been awarded best budget vape pen from a few different reviewers, we're happy we've finally got our hands on it and can offer our it to our customers.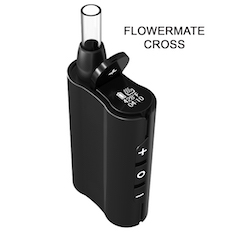 Flowermate Cross
The newest addition to the Flowermate family, The CROSS (short for dry herb/concentrate crossover) is designed for all dabbers and herb lovers. Equipped with 2 separate chambers and mode settings, a beautiful finishing, a higher-standard chip tech, along with the peculiar design for dual professional functions, this whole package will bring you the beyond experience ever!
The Cross is the successor to the versatile Flowermate Hybrid X Vaporizer, the all-in-one solution for those who are looking for a unit that can handle herbs as well as concentrate. Improvements for the cross include the special concentrate heating chamber and haptic feedback. We're sure that if you vaping love all kinds of herb (who doesn't?) then this will be a handy and much appreciated vaporiser that cuts down the need for multiple vapes!