Bubble Hash Bag Blog
Welcome to the Bubble Hash Bag. The 5 bubble ice bags enables you to extract valuable plant resins and separate herbal extract into different grades. Removing dust, leaf and other unwanted chemicals and holds all the finest and smallest high quality herbal crystals/pore size, making sure no crystals escape. Buy Yours Today!
Made of durable waterproof canvas - Heavy Duty Nylon thread material (600 x 300D Oxford Cloth) Bubble extraction bag is made of long lasting good material, prevents from flaking and chipping after several uses. Which means more hash making!
The Bubble Hash Bags are strong, lightweight and visually appealing with the vibrant colors of the 5-bag set. In this set, the filter bags were designated as follows on a tag sewn tightly to the collar of each bag.
Color Code:
- Purple (25 Microns)
- White (45 Microns)
- Yellow (73 Microns)
- Black (90 Microns)
- Orange (120 Microns)
- Red (160 Microns)
- Green (90 Microns)
- Blue (220 Microns)
- Includes a free black storage carrying bag for easy storage (Bucket not included)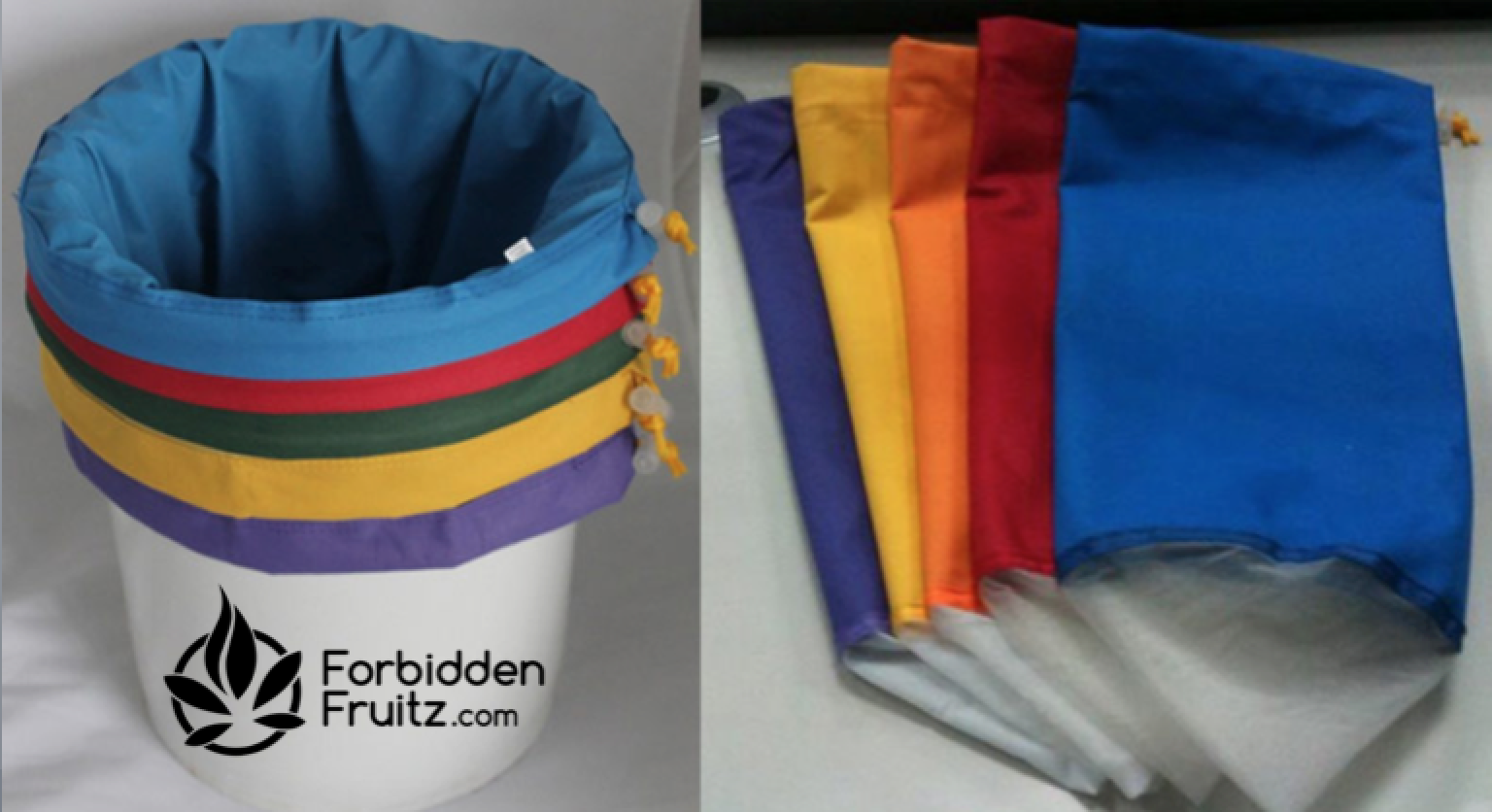 Two types of hash, the best sort which hasn't been extracted without a chemical solvent, generally falls into the category of bubble hash. So many different ways of making it, but one of the easiest and most effective methods involve using bubble bags, simply bags with a mesh that filters out the other plant matter. Cool right?
These Bubble Hash Bags are easy to use; they slip perfectly over the edge of a standard 5-gallon bucket. I placed each bag about ½" to ¾" higher than the last (starting with the purple bag) by rolling the collar of the bag further down than the last and then pulling it up so that the actual filter component doesn't touch the filter of the next bag down.
Bubble Bags are strong enough that you can press the water out by squeezing and/or rolling the bag, but I don't recommend this. Instead, it's better to allow the water to drain out via gravity while slowly pulling all the trichomes into the centre of the filter using a something like a spoon. This method allows you to collect more product from each run and does less damage to the hash, resulting in a much cleaner and stronger finished iceolator.
So… What do we think?

Overall these bubble hash bags are an incredible value and will work well for both novices and professionals. And don't let the low price fool you; I achieved surprisingly good results using these bags, as well as everybody else, all reviews on the internet are positive and praising how good this magical bags are.
If you have any questions, or want to get in touch with us, please don't hesitate. You can find us on our website ForbiddenFruitz, also on eBay. And don't forget to follow/like/comment on Facebook, Twitter& Instagram.