Here's 3 vapes which won't break the bank but still give great performance. Perfect if you still want to give up smoking & get into the healthier, more cost effective world of herbal vaping.
3 Brilliant Budget Vapes that don't bust the bank:
The XVape Avant - Cheapest Herbal Vapouriser
The XVape Avant is the cheapest herbal vaporiser we sell at £29.95, but don't let that put you off as for the price it's a banger. It's compact, has 5 heat settings, is nicely compact, comes with a ceramic heating chamber and magnetic ceramic mouthpiece… not bad for less than £30 eh? If vaping herb is something you've heard about but never really considered before, then this really is the most cost savvy way of finding out what all the fuss is about.
Of course, this is a budget vape and probably won't give you the same experience that some of our more premium vaporisers will, but many of those are £200+ and the way we see it is, when you first learn to drive you don't go out and buy a luxury car, most people buy something cheaper that does the job until you can afford something nicer… well that's what the Avant is, it's the first step onto a ladder that we're sure you will want to climb. And if you buy it but find vaping herb isn't for you? Well, it's always there in case you run out of papers!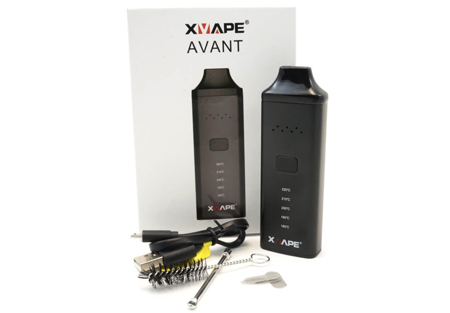 The XMax Vital - Flavourful and strong
The XMax Vital is a pretty sweet vapouriser. Honestly, it has a large deep ceramic bowl for packing in plenty of herb, it has a nice clear OLED screen with precise temperature control with a 5 or 10 minute timer, it is well built and has a nice silicone wrapped case which is excellent for grip. It just sits really nicely in your hand and feel good, whereas some vapes are bulky or awkward shaped, this really is the perfect feeling vape, and as odd as it sounds, it's quite important because if you're anything like me you'll spend a LOT of time with one of these in your hands every day! But beside the fact it feels nice, it performs really well too, gives you a nice strong hit that isn't too harsh but has plenty of flavour too. If you've read the review for the Avant then you'll know I compared that too to a first car… well using another e car analogy if the Avant is a BMW 3 Series, then the Vital would be like it's bigger brother the 5 Series, it's a little bigger, a little more expensive but also has a few more refined features such as pass through charging (the ability to use the vape whilst it's being charged) and you can even buy extras for it such as a glass mouthpiece, water bubbler and even a bong adapter so you can vape your herb through a bong!!
This vaporiser is a favourite of ours, and it costs under £50. What's not to love?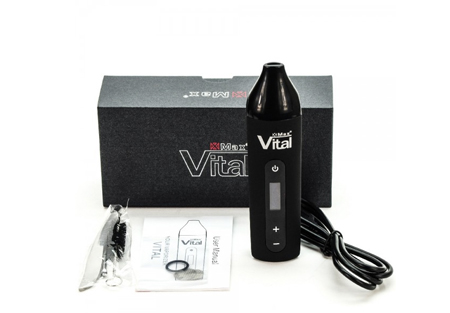 The Dr Dabber Ghost - The Award Winner
Seeing as you're here, I'm guessing you're already a vape and many of you will already have tried vaping dry herbs, but there is another option besides dry herb and e-liquids… it's called concentrates. Basically, green fingered enthusiasts have long been tinkering with ways to consume their beloved herbs beside regular smoking, and that's where concentrates come in, it's basically what the name suggests, a concentrated form of the herb. Now there are many ways to extract concentrate from plants from presses, hash bags, solvents to the super scientific C02 extraction process.. basically there's many ways that you can extract and that also leaves you with many different forms of concentrates… it can be confusing as there's wax, shatters, hashes, rosins & crumbles. Basically they're all forms of highly concentrated herb extract that are pretty powerful.
Now many people like to smoke their extracts though dab rigs which basically look like chemist equipment and can get very expensive… well here's where the Dr Dabber Ghost comes in. It's a small pen vape that is used exclusively with concentrates so no dry herb can be used with this, but it essentially works in the same way, you take a small amount of material (wax/shatter/crumble) and using the dabber tool, you place the extract on top of the coil beneath the mouthpiece and press the single button to heat up the extract. It's that simple! But be careful though as concentrates are much more potent than ground leaf, and it doesn't take much to have you feeling the full effects very fast.
This vape comes in under £50 but don't think that it's quality suffers from it, there's the slow heating titanium coils which heat slower so that it doesn't burn the material and gives a much smoother hit. It also comes with everything you need straight out of the box, including packing tools, a storage ball & charger. There's a reason it was voted "Best Value" by High Times Magazine. So if you're thinking about getting into vaping concentrates, then this pen would be the perfect entry point!